Diagnostic dilemmas in COVID-19 patient
Maria Gabriella Coppola | gabry.cop@libero.it

Complex Operative Unit of General Medicine, The Sea Hospital, ASL Napoli 1 Centro, Napoli, Italy.

Emiliano Panizon

Complex Operative Unit, Medical Clinic, Cattinara Hospital, University-Health Authority Giuliano-Isontina, Trieste, Italy.
Abstract
As the main title 'COVID-19 revolution: a new challenge for the internist' states, the global coronavirus infection disease 2019 (COVID-19) pandemic represented a new challenge for the internists. This paper is part of a series of articles written during the difficult period of the ongoing global pandemic and published all together in this fourth issue of the Italian Journal of Medicine, with the aim of sharing the direct experiences of those who were the first to face this severe emergency, expressing each point of view in the management of COVID-19 in relation to other diseases. Each article is therefore the result of many efforts and a joint collaboration between many colleagues from the Departments of Internal Medicine or Emergency Medicine of several Italian hospitals, engaged in the front line during the pandemic. These preliminary studies therefore cover diagnostic tools available to health care personnel, epidemiological reflections, possible new therapeutic approaches, discharge and reintegration procedures to daily life, the involvement of the disease not only in the lung, aspects related to various comorbidities, such as: coagulopathies, vasculitis, vitamin D deficiency, gender differences, etc.. The goal is to offer a perspective, as broad as possible, of everything that has been done to initially face the pandemic in its first phase and provide the tools for an increasingly better approach, in the hope of not arriving unprepared to a possible second wave. This paper in particular deals with the diagnosis of COVID-19.
Downloads
Download data is not yet available.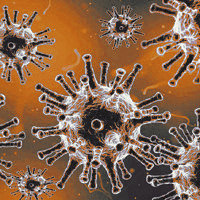 Info
Section
COVID-19 revolution: a new challenge for the internist
Keywords:
COVID-19, SARS-CoV-2, SARS-CoV-2 pneumonia, diagnostic dilemmas.
Statistics
Abstract views:

754



PDF:

87

HTML:

0
How to Cite
Coppola, M. G., & Panizon, E. (2020). Diagnostic dilemmas in COVID-19 patient. Italian Journal of Medicine, 14(4), 203-206. https://doi.org/10.4081/itjm.2020.1400
Copyright (c) 2020 the Author(s)
This work is licensed under a Creative Commons Attribution-NonCommercial 4.0 International License.