Platelets indices as prognostic markers in the critically ill
Anusha J. Yadav

Department of General Medicine, M S Ramaiah Medical College, Rajiv Gandhi University of Medical Sciences, Bangalore, Karnataka, India.

Shaikh Mohammed Aslam | drmdaslam@yahoo.com

Department of General Medicine, M S Ramaiah Medical College, Rajiv Gandhi University of Medical Sciences, Bangalore, Karnataka, India.

https://orcid.org/0000-0002-8988-9656
Abstract
Platelet indices such as mean platelet volume (MPV), platelet (PLT) count, plateletcrit (PCT) and platelet distribution width (PDW) describe platelet morphology and proliferation kinetics. Our study aimed to evaluate the utility of platelet indices as prognostic markers in critically ill patients. This was an observational, descriptive study conducted on 106 critically ill adults for a duration of 24 months in the medical intensive care units (MICUs) of a tertiary care hospital. Analysis of the data was done using statistical software R version 3.6.0 and MS Excel. The mean age of patients was 42.3 ± 5.8 years. Non-survivors had lower PLT count and PCT when compared to survivors. PDW and MPV were higher for non- survivors when compared to survivors. PLT count of < 90,000 cells/cu mm displayed the highest sensitivity (94%) while PDW demonstrated the highest specificity (96%) in predicting mortality among critically ill patients. Abnormally low PLT count, high PDW and high MPV values are associated with severe illness and put the patients at high risk of death as compared to patients with normal PLT indices.
Downloads
Download data is not yet available.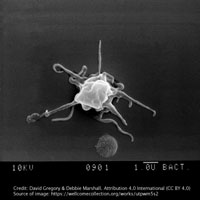 Info
Keywords:
Platelet count, blood platelets, critical care, mean platelet volume.
Statistics
Abstract views:

115



PDF:

66
How to Cite
J. Yadav, A., & Mohammed Aslam, S. (2020). Platelets indices as prognostic markers in the critically ill. Italian Journal of Medicine, (AOP). https://doi.org/10.4081/itjm.2020.1388
Copyright (c) 2020 the Author(s)
This work is licensed under a Creative Commons Attribution-NonCommercial 4.0 International License.