Intestinal microbiota in the pathogenesis of chronic heart failure
Vladimir Ivashkin

Internal Disease Propedeutics, I.M. Sechenov First Moscow State Medical University, Moscow, Russian Federation.

Maria Fadeeva

Vasilenko Clinic of Internal Disease Propedeutics, Gastroenterology, and Hepatology, I.M. Sechenov First Moscow State Medical University, Moscow, Russian Federation.

Manana Skhirtladze

Vasilenko Clinic of Internal Disease Propedeutics, Gastroenterology, and Hepatology, I.M. Sechenov First Moscow State Medical University, Moscow, Russian Federation.

Oxana Zolnikova | ks.med@mail.ru

Internal Disease Propedeutics, I.M. Sechenov First Moscow State Medical University, Moscow, Russian Federation.

http://orcid.org/0000-0002-6701-789X
Abstract
In this review, we have considered and discussed the existing data to achieve a deeper understanding of the role of intestinal microbiota in the development and progression of chronic heart failure (CHF). The key moments of the CHF pathogenesis (an imbalance of neurohumoral systems, inflammatory theory and metabolic disorders) and the respective changes of the intestinal microflora composition were compared. Here, we also present the latest results of the positive influence of the microflora modulations on the course and prognosis of CHF with the prescribing antibiotics, probiotics and prebiotics.
Downloads
Download data is not yet available.
PlumX Metrics
PlumX Metrics provide insights into the ways people interact with individual pieces of research output (articles, conference proceedings, book chapters, and many more) in the online environment. Examples include, when research is mentioned in the news or is tweeted about. Collectively known as PlumX Metrics, these metrics are divided into five categories to help make sense of the huge amounts of data involved and to enable analysis by comparing like with like.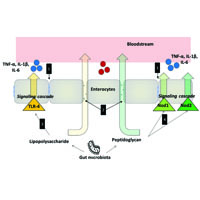 Keywords:
Intestinal microbiota, chronic heart failure, probiotics, cytokines.
Statistics
Abstract views: 61

PDF: 58
HTML: 8

How to Cite
Ivashkin, V., Fadeeva, M., Skhirtladze, M., & Zolnikova, O. (2020). Intestinal microbiota in the pathogenesis of chronic heart failure. Italian Journal of Medicine, 14(1), 1-8. https://doi.org/10.4081/itjm.2020.1185
Copyright (c) 2020 the Author(s)
This work is licensed under a Creative Commons Attribution-NonCommercial 4.0 International License.