Consensus document ANMCO/FADOI/SIAARTI/SIC/SIMG/SIMI/SIMEU: The clinical-diagnostic and therapeutic pathway of patients with acute heart failure in the Emergency Department
Abstract
Acute heart failure (HF) involves hospitals throughout the world and, as well as other acute cardiac pathologies such as coronary syndromes, has markedly unfavorable outcomes: the mortality or rehospitalization rate after 3 months is 33%, mortality 1 year after admission varies between 25% and 50%.
A critical factor in managing acute HF is the multiplicity of health professionals involved in the diagnostic-therapeutic pathway of this syndrome - general practitioners, emergency doctors, cardiologists, internists, anesthesiologists/resuscitators - and therefore also the need to integrate different knowledge and skills and converge on care goals that can improve clinical outcomes.
This consensus document originates from the joint work of the Scientific Societies, representing various professional figures involved in assisting patients with acute HF, and has shared strategies and pathways aimed at guaranteeing both quality care levels and better outcomes. The document details the entire journey of the patient with acute HF from the onset of symptoms at home, diagnosis, home management or sending to the Accident and Emergency/Emergency Admissions Department (AandE/EAD), mode of transport, early therapy, through the instrumental clinical pathways for diagnosis in AandE/EAD and the treatment, risk stratification and discharge of the patient in ordinary hospitalization or at home. It also analyses the possible role of cardiological "fast-track", Short Intensive Observation and regional welfare taking charge through general medicine and specialist clinics for the care of HF.
The growing care burden and the complex problems generated by acute HF cannot find an adequate solution without an integrated multidisciplinary approach that effectively places emergency facilities in the network along with intensive and ordinary hospitalization units and within the context of regional care. Thanks to contributions from the most qualified Scientific Societies, this document pursues this objective by proposing a structured, shared and applicable pathway which can contribute to manage a widespread problem in the country.
Downloads
Download data is not yet available.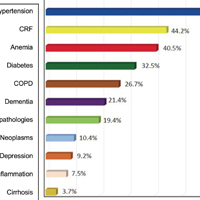 Info
Section
FADOI Position Statement
Keywords:
Discharge, Emergency Admissions Department, Care pathway, Acute heart failure, Emergency.
Statistics
Abstract views:

430



PDF:

492

HTML:

36
How to Cite
Vescovo, M. (2019). Consensus document ANMCO/FADOI/SIAARTI/SIC/SIMG/SIMI/SIMEU: The clinical-diagnostic and therapeutic pathway of patients with acute heart failure in the Emergency Department. Italian Journal of Medicine, 13(4), 247-276. https://doi.org/10.4081/itjm.2019.1230
Copyright (c) 2019 Mariavittoria Vescovo
This work is licensed under a Creative Commons Attribution-NonCommercial 4.0 International License.