Adult patients with congenital heart disease (GUCH): lights and shadows
Luciano Daliento | luciano.daliento@unipd.it

Dept of Cardithoracic Sciences University of Padua, Italy.

Elettra Pomiato

Giovanni Vescovo

Massimo Padalino

Giovannella Russo
Abstract
More than 60 years have passed since Lillehei "The father of open surgery" started the era of correction of congenital heart diseases1. At the end of the sixties, only the minority of the patients with complex congenital heart diseases survived the first year after birth2; nowadays on the contrary, the grown-up congenital heart population exceeds the pediatric one3–5. The reasons of such a change are different: fetal echocardiography has made prenatal diagnosis of heart anomalies possible, thus causing the raise of interruptions of pregnancy. On the other hand, the high diagnostical accuracy and the brilliant surgery outcome along with an improved medical management allow higher survival rate6–8. Early during seventies Perloff foretold: "…it is a simple matter of time before a population of adult with congenital heart disease would emerge […]; we are obliged to look beyond the present and define our ultimate goal: the quality of life of long-term survival "9.
Downloads
Download data is not yet available.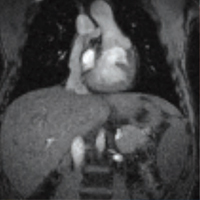 Info
Section
State of the Art with an Expert
Statistics
Abstract views:

448



PDF:

334

HTML:

26
How to Cite
Daliento, L., Pomiato, E., Vescovo, G., Padalino, M., & Russo, G. (2019). Adult patients with congenital heart disease (GUCH): lights and shadows. Italian Journal of Medicine, 13(4), 189-199. https://doi.org/10.4081/itjm.2019.1187
Copyright (c) 2019 Luciano Daliento, Elettra Pomiato, Giovanni Vescovo, Massimo Padalino, Giovannella Russo
This work is licensed under a Creative Commons Attribution-NonCommercial 4.0 International License.