Treatment of Patients with Heart failure and Type 2 Diabetes: a review of the literature
Elisa Fabbri | elisa.fabbri0909@gmail.com

Internal Medicine Unit, Morgagni-Pierantoni Hospital, Forlì, Italy, Italy.

Maurizio Nizzoli
Abstract
Heart failure (HF) and type 2 diabetes (T2D) often coexist and having both the diseases compared to having one alone is associated with greater challenges in their management/treatment and worse outcomes. The present review of the literature is aimed at providing a comprehensive synopsis of the main evidences about the treatment of the two coexisting conditions. In particular, the recent introduction of new glucose-lowering drugs has been deeply changing the therapeutic approach to T2D. Big randomized controlled trails (RCTs) developed to test the cardiovascular safety of these new drugs consistently highlighted a reduction of the risk of hospitalization for HF in patients with T2D treated with sodium-glucose co-transporter 2 (SGLT2) inhibitors, suggesting a potential and revolutionary class effect probably related to their diuretic effect. Moreover, a renal protective effect of this drug class has also been emerging and the beneficial effect of SGLT2 inhibitors on the risk of HF hospitalization seems to be even greater in patients with worse renal function. In conclusion, although the underlying mechanisms are not fully understood, SGLT2 inhibitors appear to be a promising tool to treat HF and T2D. Ongoing RCTs specifically enrolling patients with HF treated with SGLT2 inhibitors will provide more insights and further information.
Downloads
Download data is not yet available.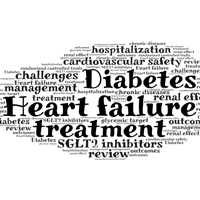 Info
Statistics
Abstract views:

459



PDF:

497

HTML:

22
How to Cite
Fabbri, E., & Nizzoli, M. (2019). Treatment of Patients with Heart failure and Type 2 Diabetes: a review of the literature. Italian Journal of Medicine, 13(4), 205-224. https://doi.org/10.4081/itjm.2019.1184
Copyright (c) 2019 Elisa Fabbri, Maurizio Nizzoli
This work is licensed under a Creative Commons Attribution-NonCommercial 4.0 International License.