13º Congresso Regionale FADOI Campania, Napoli, 10-11 aprile 2014
Abstract
Abstract Book of the 13º Congresso Regionale FADOI Campania, Napoli, 10-11 aprile 2014
Downloads
Download data is not yet available.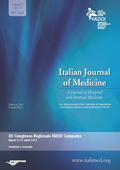 Info
Keywords:
abstract book, FADOI Campania, meeting, conference
Statistics
Abstract views:

703



PDF:

2635
How to Cite
Uomo, P. G. (2014). 13º Congresso Regionale FADOI Campania, Napoli, 10-11 aprile 2014. Italian Journal of Medicine, 8(s1), 1-27. https://doi.org/10.4081/itjm.2014.s1
Copyright (c) 2014 Presidente: G. Uomo
This work is licensed under a Creative Commons Attribution-NonCommercial 4.0 International License.